Ramadan Mubarak, Ramadan Wishes, Happy Ramadan, EID Mubarak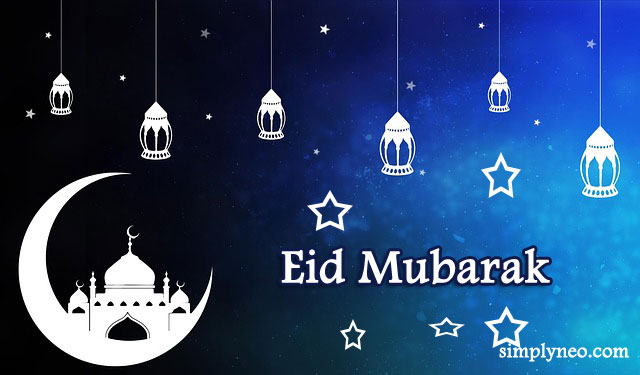 May the magic of this Eid bring lots of happiness in your life and may you celebrate it with all your close friends & may it fill your heart with wonders.
Eid Mubarak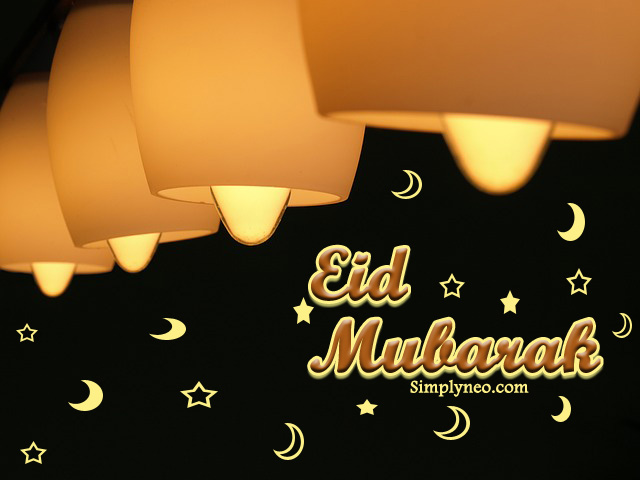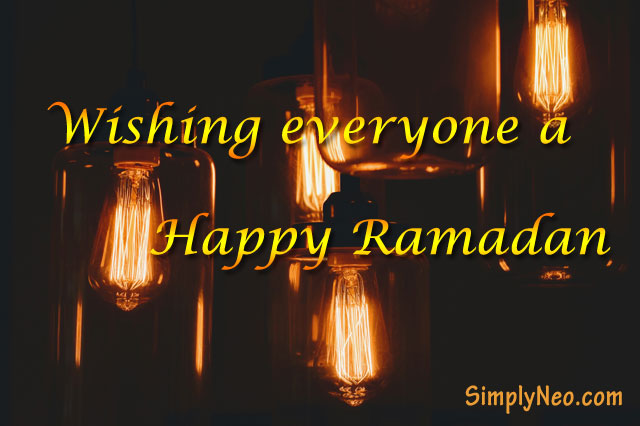 Hope Love and Laugher, warmth, wishes, joy and a bouquet of Eid wishes, jubilations, become a part of your Eid and Your Life. Have a Happy Eid Mubarak.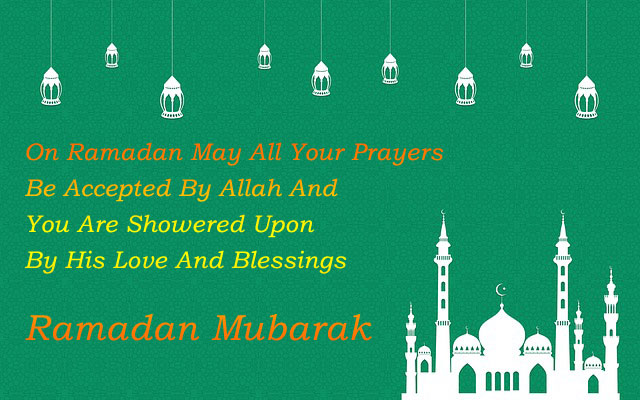 May This Ramadan be as bright as ever. May this Ramadan bring joy, health and wealth to you. May the festival of lights brighten up you and your near and dear ones lives. May this Ramadan bring in u the most brightest and choicest happiness and love you have ever Wished for.
---
hum ap k dil main rehte hain, Is liye her dard sehte hain, Koi hum se pehle WISH na ker de apko, Is liye sub se pehlay "Happy Ramadan ul mubarak" kehte hain
---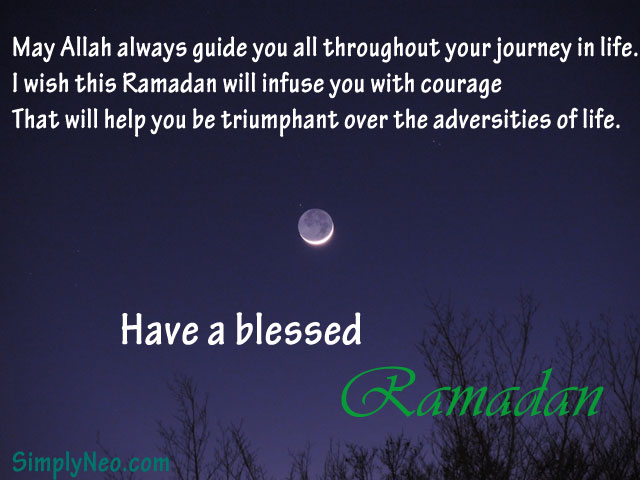 May Allah always guide you all throughout your journey in life.
I wish this Ramadan will infuse you with courage
That will help you be triumphant over the adversities of life.
Have a blessed Ramadan!
---
As the candle light flame, Ur life may always be happiness claim; As the mountain high, U move without sigh; like the white linen flair, Purity is always an affair; As sunshine creates morning glory, fragrance fills years as flory; with the immaculate eternal smile, attached to u mile after mile; All darkness is far away, As light is on its way, Wish all of you a very happy Eid Mubarak.
---
When my arms cant reach people close to my heart. I always hug them with my prayers. May allahs peace be with you. A very happy Eid Mubarak to you.
---
Wishing u 1 month of ramadan, 4 weeks of barkat, 30 days of forgiveness, 720 hours of guidance, 43200 minutes of purification, 2592000 secs of Nuur..!! Ramadan Mubarak
---
Happy EID-Mubarak to all of you A Wonderful One..!! To Help Make Your Eid Friendship And Fun Light Hearted Moments Of Bright, Happy Things Warm,Happy Hours And That This Eid Day Brings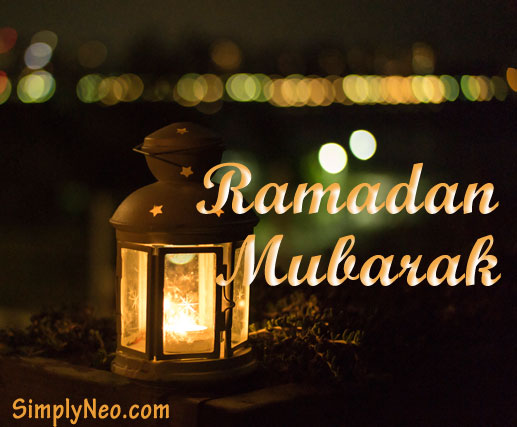 ---
Today I pray that:- Happiness be at your door May it knock early Stay late & leave the gift of Allah's Peace,love,joy & good health behind Shaban Mubarak, Eid Mubarak, Ramadan Mubarak, May you remain happy all the time Irrespective of any occasion
---
May all the joys of life be showered on you .! Wish you a very very happy Eid Mubarak to you and your family
---
I wish this Ramadan, you are gifted with blessings of Allah and many treasured moments of joy! Ramadan Mubarak!
---
RAMADAN RECIPE A Glass of Care A Plate of Love A Spoon of Peace A Fork of Truth & A Bowl of Duaas. Mix with spices of QURAAN. Enjoy This Meal. RAMADAN MUBARAK
---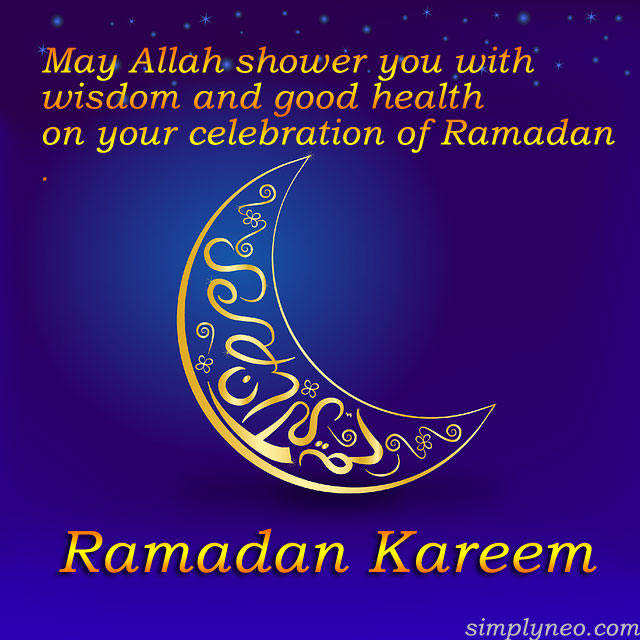 ---
May this Ramadan be month of blessings, A month full of forgivenesses & guidences for you and your family! Amen Ramadan Kareem Mubarak
---
Wishing you and your family the blessings of Ramadan. Ramadan Mubarak !!
---
As the crescent moon is sighted… And the holy month of Ramadan begins… May Allah bless you with happiness and grace your home with warmth & peace !
---
The holy month of Ramadan, For all Muslims has begun. Praising Allah through the day, From dawn to dusk we fast and pray. We pay zakah (charity) for those in need, Trying hard to do good deeds. Wishing you wonderful Ramadan.
---
May the festival of lights be the harbinger of joy and prosperity. As the holy occasion of Ramadan is here and the atmosphere is filled with the spirit of mirth and love, here is hoping this festival of beauty brings your way, bright sparkles of contentment, that stay with you through the days ahead.
---
Eid-ul-Azha Mubarak", May Allah shower countless blessing upon You and Your Family. Keep me in your prayers.
---
Fortunate Is The One Who Has Learned To Admire, But Not To Envy. Good Wishes For A Joyous Ramadan And A Happy New Year With A Plenty Of Peace And Prosperity.
---
Da juwand pa hara lara har safar de mubarak sha, Pa meena derta wayim che akhtar de mubarak sha, Happy Eid mubarak
---
Ramadan is a month of Allah Whose beginning is Mercy Whose middle is Forgiveness Whose end is Freedom from Fire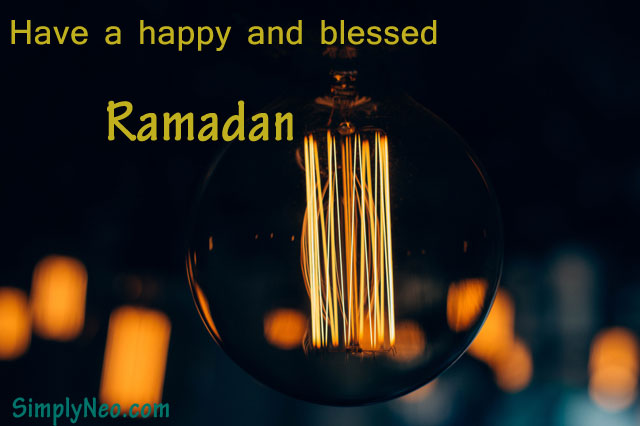 ---
Welcome Ramadan Walk humbly Talk politely Dress neatly Treat kindly Pray attentively Donate generously May ALLAH bless & protect you!
---
He is the one GOD; the Creater, the Initiate, the Designer. To Him belong the most beautiful names… He is the Almighty, Most Wise. Wishing you a blessed Ramadan..!
---